allow me to introduce myself....
the randomness that is me:
red bag of skittles. snickers. a cold pepsi.
cherry carmex. sidekick id. leggings.cowboy boots.
earrings. bag lady purses. glasses. MAC.
maybe it's maybelline? only the mascara tho.
tgiFridays. LA water. SUBWAY is yummy!! Peach Bellinis.
Tropical Peach Sangrias.White Pear Sangrias. AIM me!
spontaneous photoshoots. tatt tatt tatted up. oooh sleep.
*yawn*
NIGGAS & BOYS
bore me. "gimme a beat"..music is my lover.
God is my main man, and He never cheats! 7eleven slurpees.
poetry is my mistress & she loves the way i DO her. school is cool.
my brothers hold my heart, my baby sis is my motivation.
my grandpaw paw paw is my #1 fan. my Nani is my whooole universe.
my fam rocks my socks! my friends are better than urs! i bang w some dope chix...thats why lesbians envy me! bwahahahaha (evil laugh)
in love with 2 men..Pat & Ron. one shot of them (patron) & all is well!
plenty of flaws...but YOU will never know what they are. educated.
motivated 4 success. goofy. corny. quirky. matching is 4 losers.
pink, gray, purple, green, orange, oooh black!....where R my gold accessories beeeeyotch?!? everything i say, do, & wear just "GOES".
Oscar Wilde is my split personality. love is my muse.
relationships are my poison..."i dare not drink of thee"!
major street cred. muy inteligente. i needs a super smart man!
i crave intellectual convos w a fantastic, sexy-smart so and so
who can keep my attention for longer than 2 months. *wink* where he be?
in a nutshell, im a hood socialite. an extraordinary lady leading an
airbrushed perfect life.
(see previous lines for perceived flaws that are painted perfect).
"THIS IS ENTERTAINMENT"
these blogs will range from serious moods to goofy ones. fed up w/ love ones and "i wanna fall in love" ones as well. fashion, music, poetry, etc. etc. so sit back, relax, and enjoy my life & thoughts!!!
be safe, be productive, be blessed! this is me....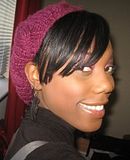 m.mckinley